If you bring a vehicle that is registered in a non-EEC country to Denmark, you must take out a frontier insurance.
In Denmark, DFIM issues frontier insurances. Please note that a frontier insurance is only issued to motor vehicles registered in a country other than Denmark.
 
Contact DFIM
by phone:

+45 41 91 90 19

 Monday – Friday between 10 a.m. and 3 p.m.
by e-mail to: dfim@dfim.dk
Information
In order for us to issue the frontier insurance for your vehicle, please inform us of the following details:
Start date for the validity of the insurance
Number of months the insurance must be valid
Category of the vehicle (car, truck, moped, motorcycle etc.)
Nationality of the vehicle
Registration number
Model
Year of the vehicle
Name and address of policy holder 
Payment
The amount (see price list below) must be deposited in the account:
Danske Bank: 3100 4001 060 171.
IBAN: DK6430004001060171. BIC / SWIFT: DABADKKK.
Remember to inform name / reg. no. or policy number on the payment.
Please note: It is not possible to pay with cash/cheque or credit cards - All payments must be by bank transfer
Once DFIM has received the payment, we will send you the policy, either per. e-mail or to your Danish address.
Frontier insurance policies are taken out for no less than one month.  If you wish to renew your policy, please do so before the policy expires – otherwise you must take out a new policy, at an extra cost.
A vehicle with an unladen weight of max. 3,500 kg. is tariffed as a car.
A vehicle carrying max. 9 persons incl. driver is tariffed as a car.
DFIM does not issue comprehensive/casco insurance, but only motor third party liability insurance. The geographic cover is the entire EU/EEC area.
Price list
Category
One month
Following months
One year
A. Car
800 DKK / 120 EUR
500 DKK / 70 EUR
5.500 DKK / 700 EUR
 
 
 
 
B. Motorcycle
600 DKK / 800 EUR
250 DKK / 35 EUR
2.300 DKK / 300 EUR
 
 
 
 
C. Truck/tractor
2.700 DKK / 380 EUR
1.700 DKK / 230 EUR
18.200 DKK / 2.400 EUR
 
 
 
 
D. Moped
450 DKK / 65 EUR
160 DKK / 20 EUR
1.100 DKK / 150 EUR
 
 
 
 
E. Bus
2.650 DKK / 360 EUR
1.200 DKK / 160 EUR
13.700 DKK / 1.800 EUR
 
 
 
 
F. Trailer
50% of the premiums listed under A and C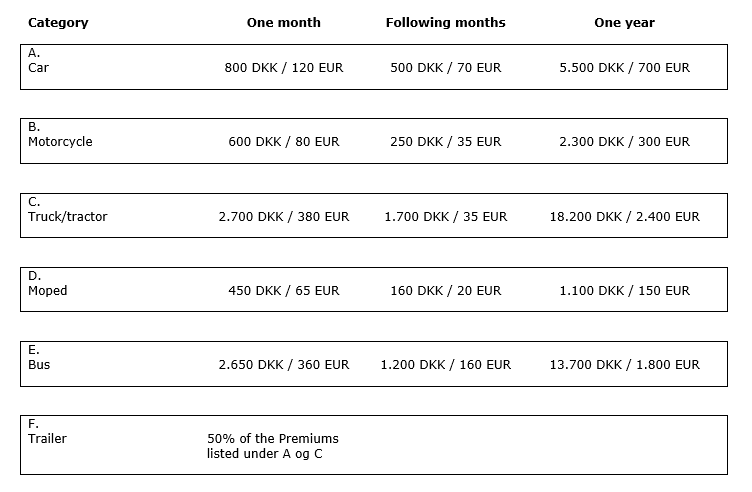 Безкоштовне прикордонне страхування — тимчасове страхування відповідальності для виїзду за кордон — для українських біженців
Щоб допомогти українцям, які виїжджають на автомобілі з рідної країни до Данії, фонд DFIM може на кордоні оформити безкоштовну страховку, що діє з дня прибуття до 30 червня 2022 року.
Бюро автострахування Данії, DFIM, яке є одним із гарантійних фондів датської страхової галузі, видаватиме поліси обов'язкового прикордонного страхування.
Прикордонне страхування є різновидом страхування автомобільної відповідальності перед третіми особами та покриває будь-яку відповідальність власника чи користувача транспортного засобу, якщо на дорозі трапиться аварія, яка спричинить травми або пошкодження інших людей і їхніх речей.
Цей спеціальний вид страхування можуть отримати всі українські біженці, які прибувають до Данії, незалежно від того, чи зареєстровані їхні транспортні засоби в Україні чи Росії.
DFIM стежить за ситуацією та постійно оцінює, чи є потреба та можливість розширення страхової схеми, але в межах чинного реєстраційного законодавства.
У Данії DFIM було призначено гарантійним фондом, бюро зеленої карти, органом компенсації й інформаційним центром і в такий спосіб служить надійною мережею безпеки, яка від імені страхової галузі піклується про інтереси потерпілої сторони на національному та міжнародному рівні.
Що робити:
Щоб отримати безкоштовне прикордонне страхування, зв'яжіться з DFIM за адресою dfim@dfim.dk і вкажіть наступне:
• Категорію транспортного засобу
• Країну транспортного засобу
• Реєстраційний номер
• Модель
• Рік випуску транспортного засобу
• Ім'я громадянина України й адресу в Данії
• Копію/фото водійських прав або паспорта
Потім DFIM надішле офіційне страхове свідоцтво (у вигляді pdf-файлу).
Контакти: dfim@dfim.dk

Посилання на прикордонне страхування:
Текст URL-адреси: Читати про прикордонне страхування
---------------------- 
Guarantee funds for uninsured claims
Refugees from Ukraine who enter Denmark by car can be issued free frontier insurance valid from the day of arrival until 30 June 2022.
Free frontier insurance for refugees from Ukraine (див. українську версію нижче)
To help Ukrainians fleeing by car from their home country into Denmark, DFIM can issue free frontier insurance valid from the day of arrival until 30 June 2022.
Frontier insurance is like third party liability insurance and covers the liability that the owner or user may face in the event of a road accident where damage is caused to other people and their property.
This special scheme applies to all refugees from Ukraine who arrive in Denmark as Ukrainian citizens, regardless of whether they are driving a Ukrainian or a Russian registered vehicle.
To obtain free frontier insurance, contact DFIM via dfim@dfim.dk and provide the following information:
Vehicle category
Nationality of the vehicle
Registration number
Model
Year
Name and Danish address where the Ukrainian citizen will be residing
Copy/photo of driver's licence or passport
DFIM will then send you an official insurance certificate (as a pdf file).
DFIM monitors the situation and continuously assesses the need and possibility to extend the scheme under the current registration legislation.
The above information is communicated to
- DFIM's members, which include all insurance companies in Denmark offering motor liability insurance
- The country's police districts
- The country's municipalities
- Major aid organisations
DFIM is designated in Denmark as Guarantee Fund, Green Card Bureau, Compensation Body and Information Office. All four schemes relate to motor liability.
Contact
Tel: +45 41 91 90 19
Weekdays 10-15